"Qu'est-ce que c'est qu'une bûche de Noël"? *
* What is a bûche de Noël?
---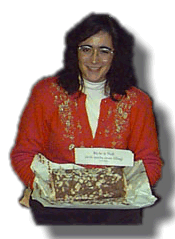 It's a French Yule log cake. It's like a jelly roll, but with cream filling and chocolate icing and all dolled up to look like a log. It takes an appalling number of eggs and can be a bit involved, but it's quite good and is fun for Christmas time. Please take a stab at authentic pronunciation: /byoosh duh Noël/, because when you say "boosh de Noël" it means "Christmas mouth" and sounds like an affliction ("Oh, y'know Herb is a real sweetie, but you can't let him catch you under the mistletoe-- he gets terrible bûche de Noël from all the eggnog and fruitcake.").
When I find my recipe again, I'll post it.
Update: December 13, 1998
Okay, I finally did some housecleaning and found my old recipe. My high school French teacher gave it to me to make for the combined language classes Christmas party. When I think about it, it was a bit optimistic to entrust something that involved to a fourteen-year-old. But that was back in the days when girls still took a semester of Home Economics every year while the boys took Industrial Arts (I would've loved to take wood shop-- oh, well. Maybe this represents a compromise: baking something that looks like a log?). Anyway, it turned out fine, and I've been making it every year since then.
Last year I had to search for other recipes, so I've collected some different versions of the log.
Mme. Weber's recipe, a.k.a. Bonnie's Bûche
Cake
Filling
Frosting & Decoration
5 eggs, separated
1/4 tsp. cream of tartar
1 cup sugar
1 tbsp. grated orange rind
2 tbsp. sherry or almond extract
1 cup flour
1/4 tsp. salt

2 cups heavy cream
1/4 cup powdered sugar
1 tbsp. instant coffee

chocolate frosting (your choice)
shaved or slivered almonds
marzipan leaves
other realistic woodland items (artificial holly leaves & berries, small birds, sawdust)
Cake
Beat egg whites till foamy.
Add cream of tartar; beat egg whites until stiff.
Gradually beat in 1/2 cup of the sugar.
In a second bowl, beat egg yolks until thick and lemon-colored.
Beat in the remaining 1/2 cup sugar, orange rind, and sherry.
Fold the egg yolk mixture into the egg whites.
In yet another bowl, sift flour with salt.
Fold this mixture gradually into the egg mixture.
Pour into a foil-lined (now I'd say parchment-lined) jelly roll pan (10" x 15" x 1")
Bake at 375° for 20 minutes.
Turn cake out onto towel sprinkled with powdered sugar. Pick off the foil or parchment
Roll the cake up in the towel, let cool several hours.
Coffee Cream Filling
Mix the ingredients together well, and chill for at least two hours.
Whip until thick enough to be spread.
Assembly
Unroll the cake and spread it with the coffee cream filling.
Roll it back up and spread it with chocolate frosting.
Texture the frosting to resemble tree bark. Sprinkle on nuts, trim with leaves of marzipan.
Makes 8-10 servings (unless you cut it real small)

---
Return to my home page
Page maintained by Karen Reshkin, fretless@stresscafe.com
Last updated: January 28, 1997