22 July 2000: We arrive in Paris*. Our first order of business is to make sure we can get to some Irish traditional music. Really. We're headed to the little town of Tocane St-Apre half the country away to the south for the Rencontre Musicale Irlandaise, a four-day Irish music workshop. We have to hustle from Aéroport Charles de Gaulle to Paris's Montparnasse train station to catch the TGV to Bordeaux and then to Périgueux, where we will pick up our rental car and drive to Tocane.
Mike had an encounter with the local culture in the Montparnasse train station. As occasionally happens, the toilet facilities there are staffed by a live person who collects the appropriate fee for the service you plan to avail yourself of: toilet, shower, etc. A difficult physical layout and a difficult attendant did not make it especially easy to memorize the French for "How much just to take a leak?". Exact change speaks wonders, however, and the transaction was eventually consummated. Clearly there is more to cosmopolitan living than learning to eat snails.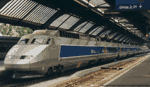 The TGV (Train à Grande Vitesse) trains are part of France's system of high-speed rail. (This picture is from Clem Tillier with Yann Nottara's excellent site, TGVWeb.) The trains are great. You overtake cars on the highway as if they were standing still, even though you know the cars are going at least 75 miles per hour. TGVs cruise at over 100 mph, reaching 186 mph along some stretches. Other than buying a reserved seat in advance, it's as easy to ride the TGV as to ride a commuter heavy rail system like Metra. It would be great to have a system like this in the U.S. The French are lucky that their country is relatively small (it's smaller than Texas) and don't have to worry about building a system like this across the Great Plains. Even if it's not the best solution for getting from one end of South Dakota to the other, for Chicago to Milwaukee it would be perfect.

* As far as folks back home areconcerned, Paris is the only place there is in France. Whenever you tell someone that you've just been to France, they invariably say "So, how long were you in Paris?" or "What did you see in Paris?". We spent less than twenty-four hours there—not what they expect to hear.